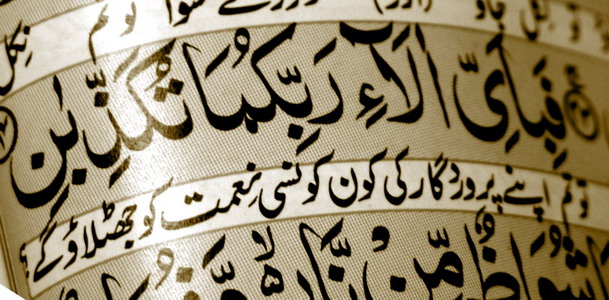 Please take a fresh pitcher or big bottle and recite "Bismillah (بسم اللہ)" seven times and "Ya Hafeez (یَا حَفِیْظُ)" Twenty-One times, and blow on your body.
Then recite Surah Al-Rahman… Forty-One times, and also Sura Al-Taghabun… Forty-One times, and blow on water.
Note: Many people can read it in one sitting together or only one person can read it in several days. As much as is recited, just blow on water. As much water is used, add more water in it. It will be enough for whole life.
If possible, please recite daily and keep blowing on water. Use this water for drinking, preparation of flour for breads, cooking and tea, etc. But do'nt use it to take bath.
By the grace of Allah (SWT), it can cure all fatal diseases which are incurable for doctors.
ایک کورا گھڑا یا پانی کی بوتل لے کر اس پر یہ عمل کریں۔۔۔
پہلے اپنے آپ پر سات دفعہ بِسمِ اللہ اور اکیس بار یا حَفِیظُ پڑھ کر دم کریں۔ پھر اکتالیس مرتبہ سُورۃ رَحمٰن اور اکتالیس مرتبہ ہی سُورۃ تَغَابُن پڑھ کر اس پانی پر دم کریں۔
نوٹ: ایک نشست میں کئی افراد مل کر بھی پڑھ سکتے ہیں اور ایک فرد کئی دن میں بھی پڑھ سکتا ہے۔ جتنا بھی پڑھیں پانی پر پھونک مار دیں۔ یہ پانی جتنا استعمال کرتے جائیں اور اتنا ہی مزید پانی ڈالتے جائیں۔یہ پانی اب زندگی بھر کے لئے کافی ہے۔
اگر ہو سکے تو روزانہ ایک مرتبہ سُورۃ رَحمٰن اور ایک مرتبہ سُورۃ تَغَابُن پڑھ کر اس پانی پر دم کرتے رہیں۔ اسی پانی کو پینے، آٹا گوندھنے، کھانا پکانے اور چائے وغیرہ کیلئے بھی استعمال کریں۔ اس سے نہانا نہیں ہے۔
اللہ کے فضل سے یہ پانی جادو، جنات، دل، کینسر، ہیپاٹئٹس اور فالج کے مریض، اندھا پن جیسے سب لاعلاج امراض، کیلئے لاجواب ہے اورمرض الموت کے سوا کوئی مرض بھی لاعلاج نہیں ہے۔