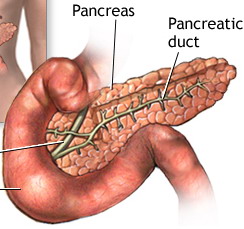 What is Diabetes?
Diabetes (Sugar) is a metabolism disorder.
Metabolism refers to how the body uses and digests food for growth and energy.
Most of the food we consume is broken down into glucose, which is a type of sugar in the blood – the main source of food for our body cells.
Cells utilize the glucose for growth and energy.
The glucose enters our body cells with the help of insulin.
After consuming food the pancreas automatically releases an appropriate quantity of insulin to transport the blood glucose into the cells, thus lowering blood sugar levels.
The Pancreas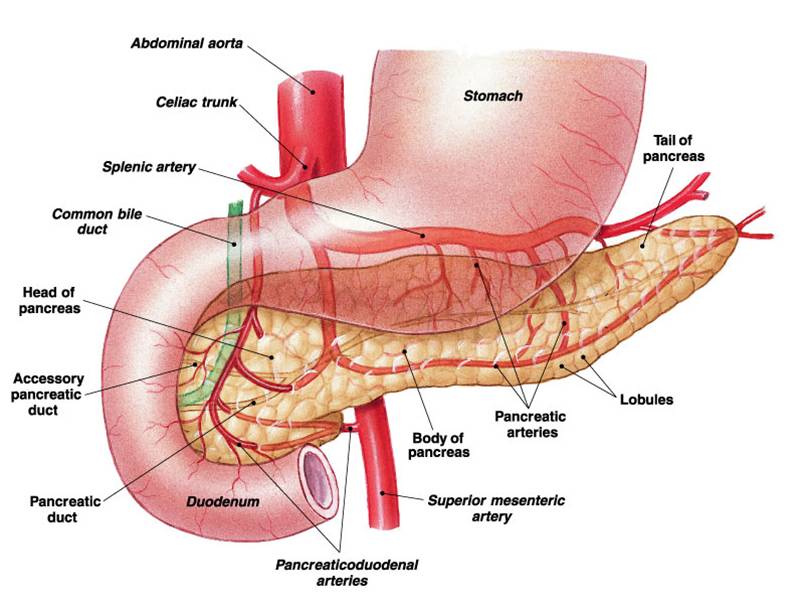 Types of Diabetes?
A person will be diabetic, if the amount of blood glucose is too high – called hyperglycemia.
This happens for one of two main reasons:
The body is producing no insulin – this is Diabetes Type-1
The cells do not respond correctly to the insulin – this is Diabetes Type-2
Excessive amounts of glucose accumulate in the blood is eventually passed out of the body in urine.
What is Type-1 diabetes?
In Type-1 Diabetes, the person's own body destroys the insulin-producing beta cells in the pancreas.
In the majority of cases this type of diabetes appears before the age of 40 years, that is why this type of diabetes is also known as Juvenile Diabetes or Childhood Diabetes.
Diabetes Type-1 can also appear after the age of 40, but it is extremely rare.
About 15 per cent of all diabetes patients have Type-1.
People with Type-1 have to take insulin regularly in order to stay alive.
Diabetes Type-1 is not preventable and is the result of a person's lifestyle.
Whether a person is fat, thin, fit or unfit, makes no difference to his or her risk of developing Type-1.
In the case of Diabetes Type-2, much of its onset is the result of bodyweight, fitness and lifestyle.
You cannot reverse or prevent Type-1 by doing lots of exercise or eating carefully.
The Diabetes Type-1 patient has lost his/her beta cells.
The beta cells are in the pancreas; they produce insulin.
What is Type-2 diabetes?
Person with Diabetes Type-2 has one of two problems, and sometimes both:

1. Not enough insulin is being produced.
2. The insulin is not working properly – this is known as insulin resistance.

The vast majority of patients who develop Type-2 did so because they were overweight and unfit, and had been overweight and unfit for some time.
This type of diabetes tends to appear later on in life.
There have been more and more cases of people in their 20s developing Type-2, but it is still relatively uncommon.
Approximately 85% of all diabetes patients have Type-2.
Diabetes Warning Signs
Thirst: Increase in thirst, accompanied by additional problems, including dry mouth, increased appetite, frequent urination — sometimes as often as every hour — and unusual weight loss or gain.
Headaches: As blood sugar levels become more abnormal, additional symptoms may include headaches, blurred vision, and fatigue.
Infections: In most cases, Type-2 diabetes is not discovered until it takes a noticeable toll on troubling infections, cuts and sores are slow to heal, frequent yeast infections or urinary tract infections and itchy skin, especially in the groin area.
Risk Factors:  You Can Control
Being overweight.
Inactive and resting lifestyle.
Continuous unmanaged stress.
Abnormal cholesterol and blood fats, such as HDL "good" cholesterol lower than 35 mg/dL or a triglyceride level over 250 mg/dL.
High blood pressure greater than 140/90 in adults.
Smokers.
Habitual of taking fizzy drinks.
Risk Factors:  You Can't Control
Race or ethnicity: Hispanics, African Americans, Native Americans, and Asians have a higher than average risk.
Family history of diabetes: Having a parent or sibling with diabetes boosts your risk.
Age: Being 45 and older increases your risk of Type-2 diabetes.
The more risk factors you have, the greater your odds of developing type-2 diabetes.
Risk Factors for Women
Having gestational diabetes when you're pregnant puts you at higher risk for developing Type-2 diabetes later on.
Women who give birth to a baby weighing over 9 pounds are also at risk.
Having a history of polycystic ovary syndrome can also cause insulin resistance that can lead to diabetes.
Diagnosing Diabetes
A simple blood test can diagnose diabetes.
The A1C test gives a snapshot of your blood glucose level over the past two to three months.
An A1C level of 6.5% or more is consistent with the diagnosis of diabetes.
A fasting plasma glucose test is another option.
A result above 126 is considered diabetes.
How often and when you test your glucose will be based on how controlled your diabetes is, the type of therapy used to control your diabetes, and whether you are experiencing symptoms of fluctuating sugars.
Some common testing times may be when waking up, before and after meals and exercise, and at bedtime.
Damages of Diabetes: Arteries
About two out of three people with diabetes die of heart disease.
People with diabetes are likely to develop plaque in their arteries, reducing blood flow and increasing risk of clots.
This hardening of the arteries (atherosclerosis) raises the risk of heart attack and stroke.
Damages of Diabetes: Kidneys
The longer you have diabetes, the greater the risk of developing chronic kidney disease.
Annual screening for kidney disease and medications, which slow the development and progression of kidney disease, are used to reduce your risk of kidney failure.
Damages of Diabetes: Eyes
High blood sugar can damage the tiny blood vessels that bring oxygen and nutrients to the retina, a critical part of the eye.
This is known as diabetic retinopathy, and it can cause progressive, irreversible vision loss.
It is the leading cause of blindness in people between the ages of 20 and 60.
Damages of Diabetes: Nerve Pain
Uncontrolled diabetes, and elevated blood sugars over time, increases the risk of nerve damage.
Symptoms include tingling, numbness, pain, and a needles feeling in the fingers, hands, toes and feet.
Nerve damage can also affect other parts of your body such as your digestive system.
Controlling your diabetes can help prevent further damage.
Managing Diabetes: Diet
Controlling blood sugar levels by changing diet can also cut your risk of complications.
People with Type-2 diabetes should carefully monitor carbohydrate consumption, as well as total fat and protein intake, and reduce calories.
Managing Diabetes: Exercise
Moderate exercise, such as strength training or walking, improves the body's use of insulin and can lower blood sugar levels in people with Type-2 diabetes.
Being active also helps reduce body fat, lower blood pressure, and protect against heart disease.
People with Type-2 diabetes should try to get 30 minutes of moderate exercise on most days of the week.
Managing Diabetes: Stress Control
Stress can rise blood pressure and sugar levels.
Instead of letting stress take its toll, try practicing relaxation techniques such as deep breathing, meditation, or visualization.
Sometimes talking to a friend, family member, counselor, or member of the clergy can help.
Saying your prayers and reciting Quran helps reducing stress.
Managing Diabetes: Oral Medication
When people with diabetes are unable to control blood sugar sufficiently with diet and exercise, medication may be added.
There are many types of diabetes pills available, and they are often used in combination.
Some work by stimulating the pancreas to make more insulin, and others improve the effectiveness of insulin, or block the digestion of starches.
Managing Diabetes: Injecting Insulin
Insulin is also used in people with diabetes who develop "beta-cell failure."
This means the cells in the pancreas no longer produce insulin in response to high blood sugar levels.
In this case, insulin therapy — injections or an insulin pump — must become part of the daily routine.
Alternative Treatment
By using alternative method of treatment both types of diabetes can be treated in addition of physical exercises and stress management etc.
In alternative treatment, all natural ingredients are used, taking them is not harmful.
Some temporary effects on stomach may occur but it will be all ok after stopping the treatment.
شوگر کا دیسی علاج
۔پرہیز: سسُتی، کاہلی، پریشانی اور بازاری کھانے، تمام تلی ہوئی غذائیں، تمام بیکری آئٹمز، جنک فوڈز، فوڈ سپلی منٹس، پیک شدہ اور بازاری کھانے اور مشروبات، سوڈے کی بوتلیں، سفید چینی، چاول، آلو، دال ماش، الکوحل، کالی پتی کی چائے، کافی، وغیرہ۔
۔۔۔۔۔۔۔۔۔۔۔۔۔۔۔۔۔۔۔۔۔۔۔۔۔۔۔۔۔۔۔۔۔۔۔۔۔
۔۔۔ تازہ دھماسہ کی مٹھی بھر سبز شاخیں (پھولوں، پتوں، بیجوں سمیت)، نیم گرم نمکین پانی میں دھو کر، چٹنی کی طرح بنا کر پھر پیسٹ بنا کر تین گلاس پانی ڈال کر موٹی چھلنی سے چھان کر ایک گلاس صبح، دوپہر، شام کھانے کے بعد لیں۔ سرما میں نیم گرم لیں۔ اگر تازہ دھماسہ نہ ملے تو نصف چھوٹی چمچ خشک دھماسہ کا (پھولوں، پتوں، بیجوں سمیت) سفوف اور نصف چھوٹی چمچ سمبلو سفوف رات کو گرم پانی کے ایک کپ یا گلاس میں بھگو کر رکھیں اور صبح پانی نتھار کر خالی پیٹ پی لیں۔ صبح بھگو کر شام کو پی لیں۔ سردیوں میں ہلکی آگ پر نیم گرم کر کے پی لیں۔ عام پنساری سے ملنے والے پیلے رنگ کا دھماسہ فائدہ نہیں دے گا، یہ پھولوں، پتوں سمیت سبز رنگ ہونا ضرور ہے ۔
۔۔ چھلکا اسبغول (دس چمچ)، ہلدی (ایک چمچ) مکس کر کے گولڈن چھلکا اسبغول تیار کر کے کسی جار میں رکھیں۔ سوتے وقت چٹکی گولڈن چھلکا دائیں اور بائیں گال میں، چٹکی زبان کے نیچے رکھ کے سو جائیں۔ صبح اٹھ کر کلی کر لیں۔ صبح و شام، ایک چمچ گولڈن چھلکا اسبغول نیم گرم دودھ یا پانی میں ایک چمچ روغنِ بادام کیساتھ خالی پیٹ پلائیں۔
۔۔ شوگر سے زخم بھی ہو چکے ہوں ، تو پودینہ، دیسی ادرک، دیسی لہسن اور کھٹا انار دانہ ہموزن چٹنی بنا کر صبح، دوپہر، شام ایک چمچ کھائیں۔ زخموں پر لگانے کیلئے پچاس گرام گندم، پچاس گرام ناریل، ایک پاؤ دیسی گھی میں جلا کر گھوٹ کر لگائیں۔
۔۔ آم کے جھڑے پتے سایہ میں خشک کریں اور پھر باریک پیس کر ایک چوتھائی چائے والا چمچ صبح شام تازہ پانی کے ساتھ خالی پیٹ استعمال کریں۔ یا آم کے پندرہ تازہ پتے لیکر ایک گلاس پانی میں ابالیں، اور چھان کر رکھ لیں اور صبح نہار منہ پی لیں۔ شوگر مکمل ٹھیک ہونے تک پیتے رہیں۔
۔۔ گندم، گوند کیکر، کالے جَو، کلونجی (ہر ایک سو گرام)۔ ان اشیاء کو دس کپ پانی میں دس منٹ تک ابال کر ٹھنڈا کر کے پانی کو چھان کر شیشے کی بوتل میں محفوظ کر لیں۔ ایک کپ روزانہ خالی پیٹ، سات دن تک استعمال کریں۔ اگلے ہفتے پھر یہی دہرائیں، لیکن ایک دن کے وقفے کے ساتھ۔ ان شاءاللہ دو ہفتوں میں شفاء ہو جائے گی۔
۔۔ روزانہ صبح نہار منہ کریلے کے دو چائے کے چمچ تازہ رس میں چٹکی بھر ہینگ کا سفوف ملا کر پینے سے ایک ماہ میں شوگر لیول کم ہونے لگے گا۔ ایک ماہ کے بعد ایک ہفتہ کا ناغہ کریں پھر دوبارہ شروع کردیں۔ مکمل شفا ہو جانے کے بعد بھی ہفتے میں دو دن لیتے رہیں۔
۔۔ بادام (شیریں)، کالی مرچ ثابت، سبز الائچی، نیم کے پتّے (ہر ایک ۱۰۰ عدد)، کالے چنے بھنے ہوئے ۱کلو (چھلکے سمیت)۔ سب چیزیں پیس کر ملائیں اور روزانہ ایک چھوٹا چمچ کسی بھی وقت استعمال کریں۔ شوگر کا خاتمہ یقینی ہے۔
۔۔ کلونجی، میتھی دانہ، سنڈھ (ہموزن) پیس کر ملا لیں اور روزانہ ایک چمچ پوڈرایک کپ ابلتے ہوئے پانی میں ڈال دیں۔ جب ٹھنڈا ہو جائے تو چھان کر نہار منہ پی لیں۔
۔۔ تخم جامن، خشک کریلہ، خشک تمّہ، کالی جیری، ثابت اسبغول، گڑمار بوٹی، خشخاش۔ (ہر ایک ½ پاؤ)، اجوائن، بھکڑہ، میتھرے، کلونجی، کالی مرچ۔ (ہر ایک ¼پاؤ)، ست پودینہ۔½ تولہ، ست لیموں۔ ½ تولہ۔ اسبغول کے علاوہ سب کو پیس کر اسبغول میں ملا لیں، اور صبح و شام کھانے سے پہلے چائے والا چمچ ہموار کر کے پانی کے ساتھ کھا لیں۔
۔۔ کلونجی50گرام، میتھی50گرام، گڑمار بُوٹی50گرام، کریلہ خشک50گرام، مغز جامن50گرام، کالی مرچ50گرام۔ سب چیزوں کو پیس کر ملا لیں اور روزانہ ایک چمچ پوڈرایک کپ ابلتے ہوئے پانی میں ڈال دیں۔ جب ٹھنڈا ہو جائے تو چھان کر نہار منہ پی لیں۔
۔۔ تازہ اندرائن (کوڑتمہ) ایک کلو، چینی دو کلو۔ تازہ تمّے کی چھوٹی کاشیں کریں اور ایک مرتبان میں چینی ڈال کر یہ کاشیں بھی اس میں ڈال دیں ایک ہفتہ میں یہ گل جائیں گی۔ اس کے بعداچھی طرح ملائیں اور صبح شام ایک ایک چمچ کھائیں۔ کڑوہ مربّہ ختم ہونے سے پہلے شوگر ختم ہو جائے گی۔
۔۔ شوگر کیلئے اندرائن (حنظل یا کوڑتمہ)، تخم سرس ( شرینح کے بیج ) + گوند کیکر یا گوند پھلاہی کو ہموزن پیس کر ایک یا دو گرام حلوے کے ساتھ کھائیں۔
۔۔ سبز ہریڑ، واوڑنگ، خشک تمّہ، پودینہ، برگ بانسہ، کالا نمک، پنیر ڈوڈلی، سونف، آملہ کیابر، نوشادر، سنامکی، اجوائن، بھیڑے، گل سرخ (سب ۲۵، ۲۵ گرام) لے کر پیس چھان لیں، اور رات کو سوتے وقت سفوف کاچائے والا چمچ ہموار کر کےپانی کے ساتھ استعمال کریں۔ ( بلڈ پریشر کے مریض کالا نمک نہ ڈالیں)۔
شوگر، کینسر، ہیپا ٹائیٹس جیسی لاعلاج بیماریوں کا روحانی علاج
۔۱: قاری عبدالباسط کی آواز میں سورۃ الرّحمٰن کی تلاوت (بغیر ترجمہ) اس طریقہ سے سنیں: شیشے کے گلاس میں پانی لیکر آدھا گلاس سنت طریقے سے پی لیں اور باقی ماندہ پانی ڈھانپ کر رکھ دیں۔ اب آنکھیں بند کر کےسورۃ الرّحمٰن اتنی آواز میں توجہ سے اور ڈوب کر سنیں کہ باہر کی دوسری آوازیں اس پر حاوی نہ آ سکیں۔ جب (فَبِأَيِّ آلَاءِ رَبِّكُمَا تُكَذِّبَانِ) بار بار آئے تو پورے یقین کے ساتھ تصور کریں کہ صحت بھی اللہ کی ایک نعمت ہے جو کہ اللہ آپ کو لوٹا رہا ہے۔ اور اپنے آپ کو صحتمند ہوتا ہوا محسوس کریں۔ جب تمام سورۃ سن لیں تو آنکھیں کھول کر باقی ماندہ پانی پی لیں۔ یہ عمل دن میں دو سے پانچ بار دہرائیں۔ انشاءاللہ ایک ماہ کے اندر موذی مرض سے نجات مل جائے گی۔
۔۲:ہر وقت مندرجہ ذیل وِرد زبان پر جاری رکھیں: ۱۔رﹶبِّ اِنِّيْ مَغْلُوْبٌ فَأنْتَصِرْ ۲۔ یَاحَیُّ یَاقَیُّوْمُ بِرَحْمَتِکَ اَسْتَغِیْثُ ۳۔ لاَ حَوْلَ وَلاَ قُوَّةَ اِلاَّ بِاللّهِ الْعَلِىِّ الْعَظِيْم۔
۔۳: تین بار درود ابراہیمی، پھر تین بار: وَقُلْ رَّبِّ أَدْخِلْنِيْ مُدْخَلَ صِدْقٍ وَّأَخْرِجْنِيْ مُخْرَجَ صِدْقٍ وَّاجْعَلْ لِّيْ مِنْ لَّدُنْكَ سُلْطٰانًا نَّصِيْرًا (بنی اسرائیل، ۸۰)۔
اور کہو کہ اے پروردگار مجھے اچھی طرح داخل کیجیو اور اچھی طرح نکالیو۔ اور اپنے ہاں سے زور وقوت کو میرا مددگار بنائیو۔ پھر تین بار درُود ابراہیمی پڑھ کر پانی پر دم کر کے صبح و شام پئیں۔ انشاءاللّٰہ شوگر کنٹرول ہو جائے گی۔
۔۴: لبلبے پر پر ہاتھ رکھ کر آنکھوں کو بند کر کے ذہن میں اللہ لکھیں اور یہ پڑھیں:۔سُورَۃُ الفَاتِحَۃ (ایک بار)،  دَرُوْد اِبْرَاهِيْمِي (ایک بار)، *بِسْمِ الله (تین بار)، * أَعُوْذُ بِعِزَّۃِ للهِ وَقُدْرَتِهٖ مِنْ شَرِّمَا اَجِدُ وَأُحَاذِرُ (سات بار)، * أَسْأَلُ اللہَ الْعَظِیْمَ رَبَّ العَرْشِ الْعَظِیْمِ أَنْ یَّشْفِیَکَ (سات بار) ، دل میں اَللہُ شَافِیْ، اَللہُ کَافِیْ، اَللہُ مُعَافِیْ کہیں اور آنکھیں کھول دیں۔ یہ عمل روزانہ ہر نماز کے بعداور اس کے علاوہ بھی جتناممکن ہو دہرائیں۔ یہ عمل کوئی دوسرا شخص بھی مریض پر کر سکتا ہے۔
۔۵: گیارہ بار درودِ شفأ: اَللّٰھُمَّ صَلِّ عَلٰی سَیِّدِنَا وَمَولَانَا مُحَمَّدٍ طِبِّ الْقُلُوْبِ وَ دَوَائِھَا وَعَافِیَةِ الْاَبدَانِ وَشِفَائِھَا وَنُوْرِ الْاَبْصَارِ وَضِیَائِھَا وَعَلٰی آلِہٖ وَصَحَبِہٖ وَبَارِکْ وَسَلِّم ۔
گیارہ مرتبہ بِسْمِ اللہِ الرَّحْمٰنِ الرَّحِیْم۔
گیارہ مرتبہ بِسْمِ اللهِ الّذِيْ لَا يَضُرُّ مَعَ اسْمِهٖ شَيْءٌ فِيْ الأَرْضِ وَلَا فِيْ السَّمَاءِ وَهُوَ السَّمِيْعُ العَلِيْمُ۔
گیارہ مرتبہ  رَبِّ أَدْخِلْنِيْ مُدْخَلَ صِدْقٍ وَّأَخْرِجْنِيْ مُخْرَجَ صِدْقٍ وَّاجْعَلْ لِّيْ مِنْ لَّدُنْكَ سُلْطَانًا نَّصِيْرًا (بنی  اسرائیل: 80 )۔
گیارہ مرتبہ سَلَامٌ قَوْلاً مِّنْ رَّبٍّ رَّحِيْمٍ۔ (  یٰسین: 58)
مذکورہ تمام وظائف پڑھ کر پانی پر دم کر لیں، روزانہ یہ پانی پئیں، جب کم ہونے لگے تو مزید پانی شامل کریں، اسی طرح یہ دم کھانے کی دیگر اشیأ پر بھی کر سکتے ہیں۔
جسمانی ورزش، مضر خوراک سے پرہیز اور دیگر طبی آراء کو ہمیشہ ملحوظِ خاطر رکھیں۔
۔۔۔۔۔۔۔۔۔۔۔۔۔۔۔۔۔۔۔۔۔۔۔۔۔۔۔۔۔۔۔۔۔
۔۱۔ شاہ کلینک، نزد عیسیٰ نگری، کراچی، پاکستان۔ واٹس ایپ: ۔ 00923122764270, جاز کیش:۔ 00923002569229

۔۲۔  بسم اللہ پنسار اسٹور چیچہ وطنی، پاکستان۔ واٹس ایپ: +00923166543335, جاز کیش:۔+00923008856198
===============
Healthy Manners Cancer & General Hospital, Aims Foundation,
Opposite NTS, Plot#94, Street 4, Sector H-8/1, Islamabad
Contact: 00923125448922, 009232151999887 (WhatsApp Message Only)
[Visiting Hours: 10am to 3pm (Sunday Off)]
Website: www.healthymanners.com
YouTube: www.youtube.com/c/HealthyMannersByShakeelShah/
===============